Mail index file format¶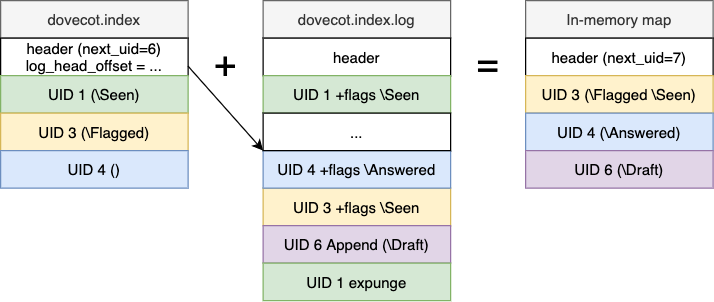 Mail index files consist of:
See also Mail Index API.
The mail index files are used in a few different places:
Mailbox indexes (dovecot.index*)

Mailbox list index (dovecot.list.index*)

mdbox map index (dovecot.map.index*)
The mailbox index is optional for some mailbox formats (maildir, mbox), but required required for all high performance mailbox formats (sdbox, mdbox, obox).
The index files were implemented to optimize Dovecot, so the file formats attempt to be efficient. The index files are often mmap()ed into memory and accessed directly via structs. This means that the data is stored using the CPU endianness, and all structs that end up in index files have to be careful with data alignment to avoid crashes with CPUs that require the alignment.
At times there have been thoughts about changing index handling so it wouldn't care about CPU endianness or alignment, but this would be a huge change and the end result would almost certainly be worse performance. This is mostly a theoretical problem anyway: It's very unlikely that index files are moving between little and big endian CPUs, and if that is actually wanted the mails can be migrated with dsync.