Dovemon¶
When running a Dovecot director ring, it is vital to keep track of status of backends and remove them from the directors if they are not reachable and add them back when they come back online. Dovemon is a daemon that monitors status of backends and can act automatically based on what it sees from the health checks so that the administrator does not need to manually monitor the backends.
Dovemon is part of licensed Dovecot Pro and is therefore available only as part of the Dovecot Pro.
Each director instance interacts with a separate dovemon daemon. In a typical setup, dovemon can be used in two ways. In a more general situation, each dovemon monitors all backends and can enable and disable all of them. In this context, disabling a backend means setting it to "down" and enabling means setting the backend to "up". Figure 1 illustrates such setup.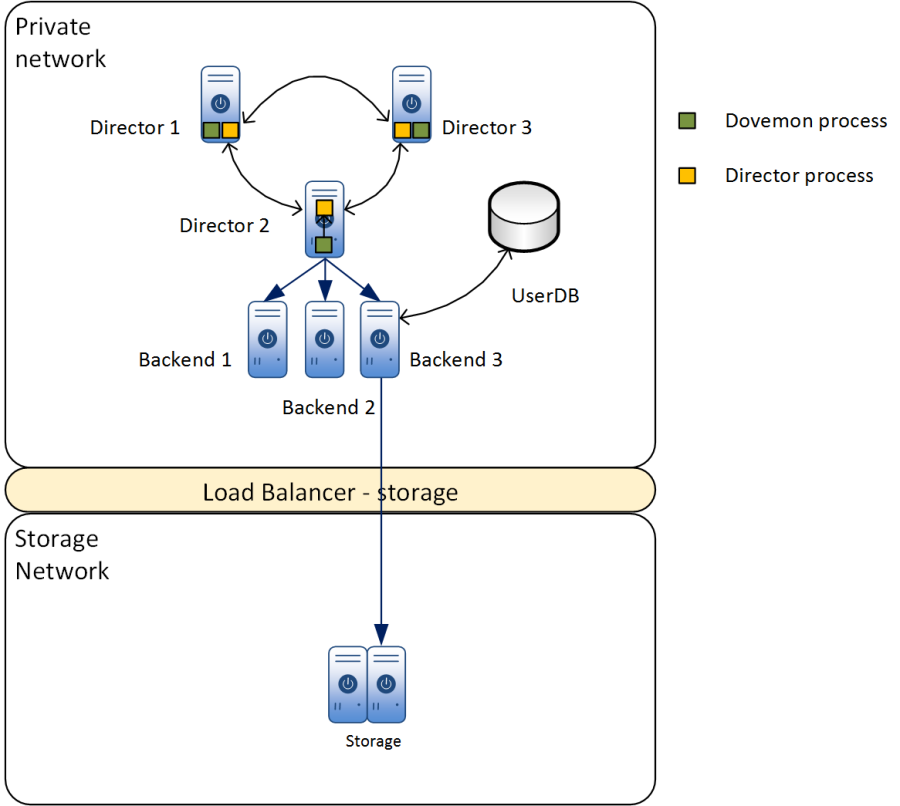 Alternatively, it is possible to assign certain backends to each dovemon in the configuration file. In this case, if a backend is down by the relevant dovemon, other directors will find out in the next ring synchronization.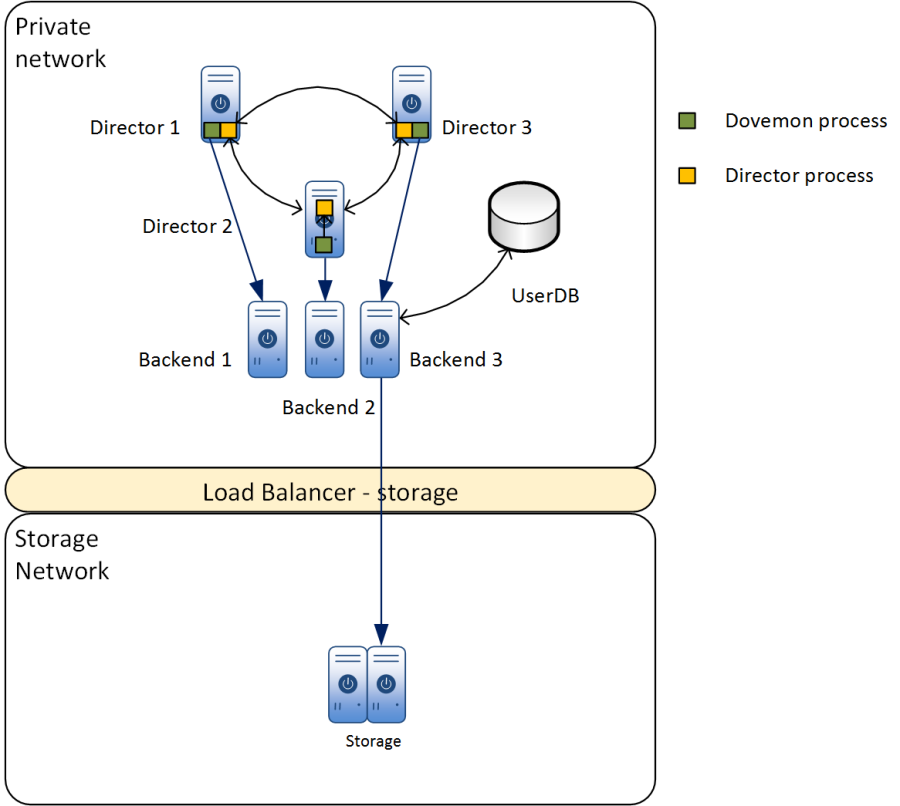 As shown in the above figures, each dovemon process interacts with a separate director and notifies it if backends need to go down or up. At each cycle of operation, dovemon polls the director for a list of all backends and performs a set of tests for each backend in a separate thread. By default, this cycle period is 10 seconds. These tests vary from simple connection check to more complicated protocol level scenarios such as LMTP mail delivery, IMAP & POP3 delete, IMAP expunge, etc. Each of these tests can be enabled or disabled in the config file. By default, dovemon only performs a simple IMAP connection and issues a LIST command.
If a certain number of test rounds fail consecutively (default is 3), dovemon performs a series of "rapid" tests which means that it launches the tests again but without any delays in between each round. The default value for number of rapid test rounds is 10. At this stage, if a configurable amount of the tests fail (default=7) the backend is deemed as faulty and it is removed from the list of active backends. This is done by setting the backend as "down" in the director process. Dovemon will continue polling the backend (if not disabled by another dovemon) with tests configuration according to the YAML file and set it to "up" again as soon as the first round of tests succeed.
At each cycle, dovemon waits for a configurable time (default is 3 seconds) to receive a reply from backend. In case the reply times out, doveadm adds another timeout period for the next round of polling. This is repeated until the max retries have been performed. In the default case where 3 retries are performed with timeout set to 3s, dovemon waits for 3s, 6s, and 9s for first, second, and third polling results respectively. However, this does not affect the interval between polls i.e. start time of each polling is always at 10s interval (in default case).
During all of the time dovemon inspects the backends, it keeps track of latency of each backend. However, this information is not used for decision making and are only written to logs.
Init scripts for Debian and Red Hat systems are provided in binary packages in form of Systemd unit files but they need to be enabled manually. By default they are disabled.
In order to avoid a situation where dovemon instances over-rule each other's decision on a host status each dovemon will bring back up a backend only if it was disabled by itself (i.e. if dovemon finds out from its director that a backend is down it will not try to bring it back up).
Changed in version v2.3.17: Python version required by Dovemon changed from 2 to 3.